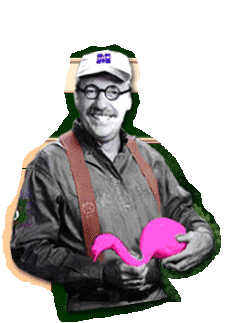 The Kennebec Valley Chamber's Annual Awards - Friday, January 27th
Tickets are now on sale - contact the Chamber at (207) 623-4559
A couple of changes this year. There'll be live voting for several categories. Pat Colwell and the Soul Sensation will be back. Oh, and that other change? I'll be the MC! And I'm gonna bring some Downeast flair to a decidedly upscale event! See you there!


Upcoming Speaking Engagements for Gary Crocker
The Healing Power of Maine Humor
April 8th, 2005
"...With the help of your Wellness/Humor presentation, everyone left asking when we could do it again. We all know that doctors can sometimes be a very difficult crowd to deal with. You provided the perfect mix of humor and the importance of humor to health...I cannot thank you enough for making our retreat a huge success."
April Chapman, RN
Office Manager
Peninsula Primary Care
Read Full Testimonial
Learn more about Humor and Wellness
Summer & Fall: 2016
Friday, July 15th, 2016 @ 5pm

Orrington Old Home Week

-

Wiswell Farm 109 River Road

-

Orrington, ME

Wednesday, July 20th, 2016 @ 5pm

Haas Automation, Inc

-

Casco Bay Ferry

-

Portland, ME

Thursday, July 21st, 2016 @ Noon

Maine Farm Credit Bureau

-

Lucerne Inn

-

Lucerne, ME

Saturday, July 30th, 2016 @ 6pm

Paul's Marina

-

YMCA Brunswick Landing

-

Brunswick, ME

Thursday, August 4th, 2016
@ 10am (Private)
@ 6:30pm (Open to Public - free of charge)

Northern Maine General Hospital

-

Employee Appreciation

-

Eagle Lake, ME

Saturday, August 13th, 2016 @ 8pm

Vacationland Campground

-

Harrison, ME

Thursday, September 8th, 2016 @

Member Event

-

Augusta Country Club

-

Manchester, ME

Tuesday, September 13th, 2016 @ 3:30pm

Maine Municipal Association

-

T&B Celebration Center

-

Waterville, ME

Saturday, September 17th, 2016 @ Noon

150th year Anniversary of Togus

-

Togus Campus

-

Augusta, ME

Friday, October 21st, 2016 @ 5pm

Androscoggin Homecare & Hopsice Annual Auction

-

Poland Spring House

-

Poland Springs, ME

Tuesday, October 25th, 2016 @ 11am

ME ADE Fall Conference

-

Point Lookout

-

Northport, ME

Friday, November 11th, 2016 @ 1pm

Veteran's Bicentennial Luncheon

-

Weld Town Hall

-

Weld, ME
Appreciation from Southworth International Group in 2015
Brian McNamara
Southworth International Group
Hello Gary...and a WICKED BIG Thank You from all of us at Southworth,

Celebrating our 125th anniversary has been a year-long program primarily focused on giving back to the communities that have supported us throughout our history. When we began planning for our big anniversary, it was our employees who chose to be fantastic citizens. So we wanted to be sure that they enjoyed a great party as a gesture of our pride and appreciation for all that they have done. We also wanted utilize the party to share our past and present story with local leaders, past employees, suppliers and families in hopes that they would better understand our culture and values.

We needed something special to happen and you certainly delivered something special.

With over 200 people gathered under that tent, the camaraderie was exceptional...the food and beverage were excellent...the music was perfect...the memory videos were great fun...but it was that damn hilarious story teller who made the evening...Thank you for taking the preparation time to investigate our history and learn a little about us before the event...Weaving our story and people into those local tales elevated everyone's enjoyment to the highest level...I'm sure a few of the folks would go out and purchase some of that "depend underwear" if we had you again...and I can't wait until we come up with a reason to do so!

Thanks again.
Brian McNamara
President, CEO & Bad story teller
Southworth International Group
Mutha's Quick Tips
Gary Entertains the Maine State House!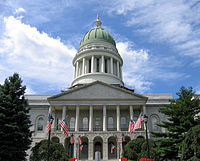 From the Kennebec Journal on July 4th, 2011:
Lawmakers finishing up business for the session bestowed "honors" on their colleagues last week, and enjoyed a comedy routine by Gary Crocker.

Crocker, a West Gardiner comedian, community college lobbyist and ardent Moxie fan, told jokes in the House wearing a blaze orange shirt and holding a stuffed toy lobster. Crocker has been a House performer in years past, helping to pass the time as lawmakers wait for paperwork...
Gary is on Youtube!
We're thrilled to present a fantastic variety of Gary's performances for your viewing online. Enjoy a quick laugh or watch Gary work the crowd with our new clips, powered by YouTube. Visit our YouTube comedy channel and leave a comment!
Good Sam Club thanks Gary!
A message from my new friends in the Maine Good Sams Club: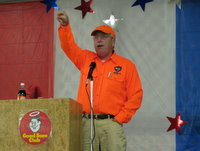 Gary,
I've attached a photo for your scrap book.
As a professional, do you carry liability insurance?
I hope you do because the morning after your performance we had many folks approaching us indicating very sore ribs from excessive laughter and the hold YOU directly responsible!
You captured the hearts of all of the Good Sam'rs. None can recall a time when everyone was in 100% agreement that the entertainment was terrific!

Thank you for sharing what is certainly a God given gift for brightening lives with us! You're the Best of the Best!
Martin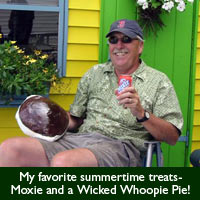 Assorted Summer Fun
The Capital Weekly has named Gary Crocker an Icon of Maine in a recent edition. The great feature and interview begins with a bang:
Gary Crocker keeps a special weapon in his vehicle. He used it once during a bumper-to-bumper traffic jam in Massachussets. "I put a red nose on, and people honked and put down their windows and asked for one. They even started making way for me, so I could go by. It sounds like the parting of the Red Sea, but it wasn't that dramatic."
Head over to the Capital Weekly on the Interwebs to check it out for yourself!
Speaking engagements across the United States...
California
Connecticut
Florida
Georgia
Illinois
Louisiana
Maine!!!
Massachussetts
Missouri
New Hampshire
New Jersey
North Dakota
New York
Oklahoma
Pennsylvania
South Carolina
South Dakota
Texas
Vermont
Virginia
Washington, D.C.
--
Puerto Rico
...And around the World!
Paris, France
Quebec City, Canada
Maine Humorists
For more Maine Humor visit www.mainehumor.com